River Garden Yoga Center is a unique center dedicated to helping you apply your practice on and off the yoga mat. Our cooperative of certified teachers will help you explore your body through yoga poses, calm your mind through breathing exercises, and find inner peace through meditation.
welcome
Our space is a welcoming and peaceful environment where people of all ages gather to learn, teach and practice together. Enjoy a variety of morning, afternoon, and evening yoga and meditation classes for all levels of experience—from beginner to experienced. After class, take a moment to relax in our enchanting urban garden. The teachers at River Garden come from a variety of traditions including T.K.V. Desikachar, Viniyoga, Kundalini, Ashtanga, Sivananda, and BKS Iyengar—so you are sure to find the right fit for you.
We are located in an historic brick building at 455 West 7th Street in St. Paul, just down the street from Day by Day Cafe at Goodrich and West 7th. The studio is spacious with high ceilings, maple wood floor, an interior brick wall and soothing colors. We welcome you and look forward to seeing you soon.
Not for profit
River Garden Yoga Center is a Not For Profit Studio. All proceeds go directly to teachers, studio upkeep, and rent. Any leftover funds go toward supporting our community and causes that are in alignment with our mission of helping others.
new student Guidelines
Please wear comfortable, non-binding clothing to class. We work in bare feet. Come with an empty stomach and please omit perfume. Please do not bring cell phones, beepers and watches with alarms into the studio, as they are disruptive to the class. Arrive on time to class. You need the beginning transition time, and it disrupts the energy in the room to have students come late.
Due to sensitivity to chemicals experienced by some people using the studios, we ask all individuals coming to River Garden to refrain from using scented products and to choose fragrance-free items whenever possible so that everyone can participate in the programs offered here.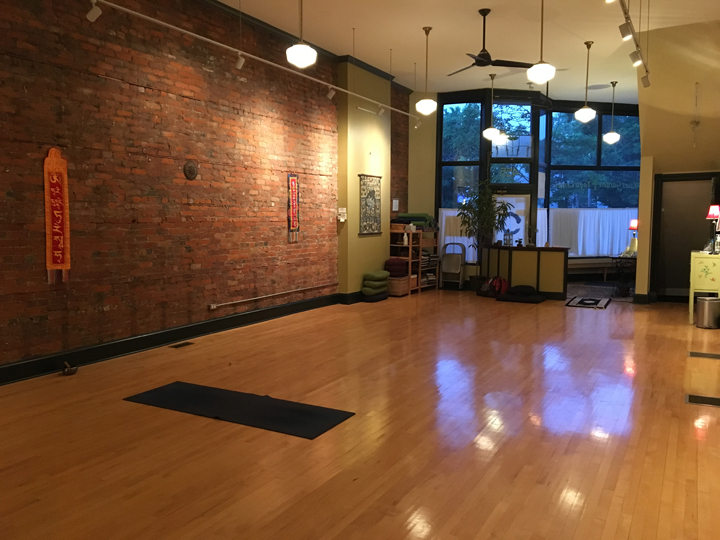 The Center is available for workshops, special events and community meetings. We have two studios available and a kitchenette with stove top for warming foods. The Center is available to teachers of ongoing classes. We also invite performing and visual artists to inquire about space usage. The studio and gardens are also available for photo shoots. Please inquire about rates and available times.